DAS70-ML Data Acquisition System
For a substantial increase in productivity, particularly over larger areas, multiple EM61-MK2 (or EM61) systems can be configured as a single array, to be towed behind a vehicle. Data collection is supported by the DAS70-ML Data Acquisition System that can receive data from as many as five EM61(-MK2) units and one GPS receiver simultaneously; in total. six individual inputs are available.
All the electromagnetic instrument readings and GPS positions are saved in one data file. Data acquisition software provides simultaneous full control of data collection parameters for each EM61(-MK2) instrument in the array as well as GPS receiver performance. The associated PC data processing program positions each sensor based on the recorded GPS positions and the configuration of the system.
With a maximum data collection rate of 30 records (total) per second, travel speeds up to 10 km/h are possible.
The DAS70-ML uses standard Allegro field computer equipped with additional serial input connections. The Allegro is a DOS or Windows CE compatible computer with an AMD 486, 100 MHz processor, and 24 MB of data storage. Utility software is provided with each system including a DOS shell, communication program, text editor, and LYNX (a file management program for Windows).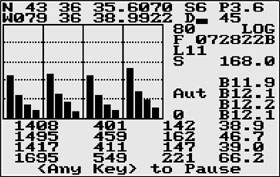 EM61-MK2 array (4 units) logging display